Top 5 Ways to Mourn the End of Summer
If you, like me, only really come alive between May and August – like some kind of reverse vampire that thrives off of rooftop cocktails and booty shorts – you may be feeling pretty down right now. We had 72 hours of surprise sunshine, and it appears to have very much disappeared again – bloody typical. We probably won't see it until next Spring now. Ah well, it was fun whilst it lasted.
On the plus side, at least no one will judge you for the extra slice of cake you ate last night, because all evidence of such autumnal decadence will be well hidden under a steadily increasing number of t-shirts and jumpers. No, but in all seriousness, autumn does have its plus points. Cosy walks, duvet days, trees changing colour… if that doesn't warm the cockles of your heart, I don't know what will.
The changing of the seasons is the time to reflect and take stock of everything we have to be grateful for in life – like the existence of pumpkin spiced lattes. In this (pumpkin spiced) spirit, I've compiled a list of simple ways to mourn the end of summer, and to begin celebrating the beginning of autumn. Get your besties together and try to go outside – it might be worth it in the end.
1. Go for a walk
Okay, this might seem a little *too* simple but hear me out. Walking is actually a great way to socialise, see people, and experience more of your city. For example, if you're living in London, you've got hundreds of parks at your disposal, just waiting to be explored. There's Richmond Park if you fancy some deer-spotting, Hampstead Heath is you fancy taking in some incredible views of the London skyline, and Hyde Park is you fancy battling your way through throngs of tourists trying to catch a glimpse of Kensington Palace. There's also the Thames – one of my favourite autumnal activities is a bracing walk along the rivers edge, followed by an Irish coffee in one of my favourite riverside pubs.
If you reside in Bristol, you're spoilt for choice, quite frankly. Leigh Woods, Ashton Court, Eastville Park, even the University of Bristol Botanic Garden… that's enough to keep you going for year. If you're in Manchester, why not check out Whitworth or Heaton Park… also, if you're up in Manny you've got the whole of the Peak District at your disposal, which is something us Londoners can only dream of.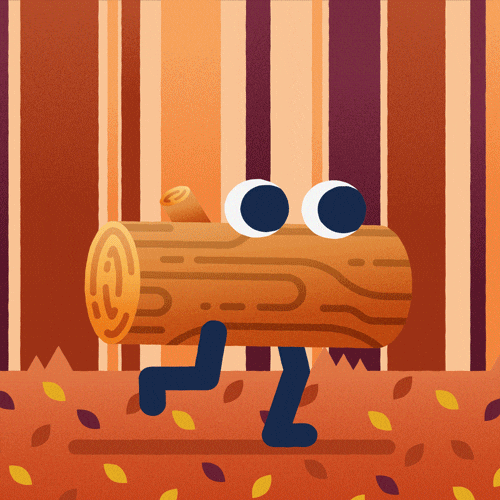 Credit: GIPHY
2. Try a cocktail
Just because summer is at an end doesn't mean the cocktails have to end too. Whilst strawberry daiquiris and pina coladas might be out of season (though I won't judge you if you're drinking 'em right through till next Easter), there are plenty of mixologists just waiting to mix you a concoction that warm you right through. Moscow mules are fiery enough to cut through even the frostiest of nights, pumpkin martinis are bang on trend, and gin brambles use the freshest, most seasonal ingredients to get you hammered in the shortest amount of time possible. London Cocktail Week will be hosting festivities right through October with the aim of local businesses that have struggled over the course of the pandemic, so why not get out there and try something a bit different?
All over the country, we have some of the best cocktail bars to choose from. Albert's Schloss in Manchester, The Beach at Bude in Cornwall, Panda and Sons in Edinburgh… the list is endless, really. With the night's drawing in, now really is the time to go out and explore more of our country's nightlife.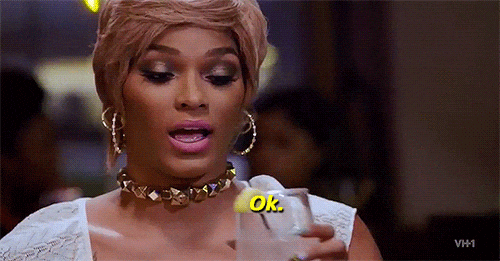 Credit: GIPHY
3. Eat good food
This one's not even a question, right? The best thing to do when the weather finally turns is to load up on all the warming stews, steaming roasts, and homely treats that it just doesn't seem right to eat when you're taking cold showers every day and have two fans pointing at you from all sides just to get comfortable at night. Well, there's plenty of good food around in the autumn – it's like they know that once the leaves are falling, the only thing you want is a sausage in a bun and a hot chocolate on the side. In London, we've got Pub in the Park coming up, as well as the London Coffee Festival, Oktoberfest, and more! That's enough to keep you full until about mid-November, I think.
Elsewhere, there's loads going on too. The Manchester Food and Drink Festival is taking over the city later this month, whilst in Birmingham the Brindley place Food Festival will be serving up some of the best food the Midlands has to offer. Edinburgh is arguably at its most beautiful in the autumn, and the Scots will be putting on their famous farmers markets somewhere in the national capital almost every day! I'm getting hungry just thinking about it.
Credit: GIPHY
4. Get on a pedalo
Okay, this might seem a bit random, but bear with. It's well known that it's clinically impossible to feel depressed when you're on a pedalo. I was in Crystal Palace Park the other day and my friends suggested it. I was hesitant at first but once you're on it, you won't be able to stop smiling, I promise you. The great thing about pedalos is that they are an affordable, if slightly quirky way to have fun with your mates and to explore your area a bit more. You can hire them in Crystal Palace Park for a fiver per person, or in Regent's Park if you're feeling a bit fancy. There are also pedalos in Portsmouth, in Scarborough, in Colchester… I mean, I could go on. It doesn't matter where you live, whether you're in Surrey or Scotland, there will be pedalos somewhere near you. Just don't fall in the water, coz it's a lot less fun in September than it would be in July. Take that from someone who has been there, done that, and most certainly doesn't want to remember the incident anytime soon.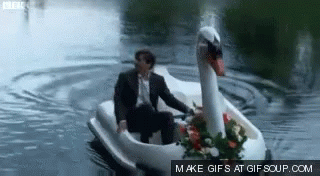 Credit: GIF SOUP
5. Start Halloween early
There's no shame in starting your Halloween celebrations early this year if that's what gets you in the mood for autumn. My mate gets the skeleton bunting and pumpkin-themed shot glasses out the day after the August bank holiday. She's living her best life, and she knows it. To get in the trick-or-treating mood a little early this year, how about making some toffee apples, buying some sparklers, and sticking on your best Halloween playlist on Spotify.
Or how about buying yourself a ticket to one of the hottest Hallows Eve celebrations around, a mere two months in advanced? Cargo always has a banging Hallows Eve celebration, as does the Clapham Grand, and the Brixton Jamm. That way, you avoid the last-minute panic that emerges when you still don't have any plans come the 31st October, and you won't get that familiar feeling of FOMO when you see everyone on your Stories dressed as sexy cats, doing sambuca shots with strangers dressed as Buffy – or is that just me?...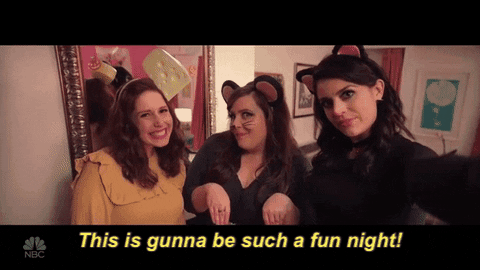 Credit: GIPHY
So, there you have it. Everything you need to make your autumn special. Hey, on the upside, it can't be worse than last autumn… right? Right!?
Words by Rebecca Clayton