00:01
We've all learnt a lot in lockdown. When I say "learnt a lot" I mostly mean that we've learnt how many Pringles we can fit in our mouth at once, how truly unfit we are after attempting a half-hour Joe Wicks workout, and just how long it takes us to have a nervous breakdown after watching Netflix for 15 straight hours.
But fear not, the end is now in sight. You can all breathe a sigh of relief. I'm not sure anybody could've guessed that nightclubs would've reopened a mere 16 MONTHS after they were forced to close last March. If they'd told us that when this whole thing began, I think it would've been a hell of a lot harder to get us out of them. We would've chained ourselves to the loos in XOYO in protest.
It's official: clubs are back. Nightclubs up and down the country are already getting booked out in preparation for the long-awaited 'Freedom day'. It's going to feel so weird to be back on a sweaty dancefloor surrounded by strangers after having too many Sambuca shots and, you know what, it's gonna feel sooooooo good.
There are a number of clubs that are going all out to celebrate this momentous occasion. Cheered on by the numbers of people that were prepared to go out in the SNOW when pubs reopened back in April, loads of venues have decided to reopen at 00:01 on the 19th July. This basically means a whole extra night of partying! Suddenly, going out on the 18th has become a possibility – even though it's a Sunday. You can go from a Spoons to a Simmon's, and then out clubbing at the stroke of midnight!
Here's a list of our top picks for clubs that have decided you give the people what they really want – a whole extra night of dancing!
1. Maggie's Club, London
Maggie's Club is a retro venue in the heart of London's poshest borough – Kensington and Chelsea. And, in true Sloaney style, this is a club that's centred around one particularly infamous former PM – that's right, in case you hadn't guessed yet, we're talking about Margaret Thatcher. A time capsule of all things '80s, Maggie's Club has labelled themselves as "a celebration of the decade best known for its famous smash hits, quirky drinks and outlandish fashion sense."
Sounds pretty crazy to us. Even more crazily, from 00:01am on the 19th those on the guestlist will be treated to a Boris Johnson impersonator and drinks till dawn! We're jealous of anyone with tickets. "From 19 July, the venue will be opening its doors for seven days straight so guests can have the time of their lives and make up for all the time they've lost off the dancefloor," said a Maggie's spokeswoman.
Check em out here.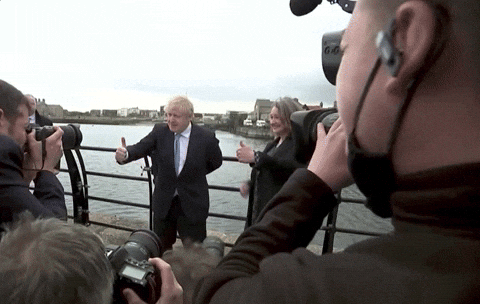 (Credit: @GIPHY)
2. Hidden Nightclub, Manchester
Hidden in Manny is a neon-lit warehouse known amongst locals for its underground chic vibe. In celebration of Freedom Day, they're opening their doors every night for the first week of lifted restrictions. In what they're calling 'The Reopening 0.5' clubbers can get a little taster of what they've been missing for so long; a whole night of drinking and dancing till they see the dawn.
Anton Stevens, who helps run the venue, told the i: "Our first few events sold out in 24 hours and there aren't many spaces left at the others. There's a real buzz around the place. It's been such a long time. We're getting so much positivity from customers and people seem full of confidence to get back out again."
We're right behind you Hidden! Although they're mostly sold out for the foreseeable, you can check out their other club nights here.
(Credit: @HIDDEN)
3. G-Bar, Liverpool
Liverpool locals have been truly blessed over the past few months. Not only did they host the first club night since lockdown back in April at Circus, but now G-Bar has unveiled plans to open till 7AM on the 19th July. It's hard not to be jealous.
Speaking to 2chill, GBar manager Andrew Pankhurst, revealed what attendees can expect, saying: "It will be like what it used to be, although people have been coming with the restrictions, they haven't been getting the full experience, the Gbar experience. It will be all about dancing, loud music and lots of music. No seating is required so if I see anyone sitting down, I will personally drag them up to dance myself."
You heard it here first folks – dancing is mandatory at this late-night hotspot. See here for more deets!
(Credit: @GBar)
4. The Backroom, Leeds
The Backroom in Leeds is a cool, underground, speakeasy-style event space. Hidden under the railway bridge at the bottom of Call Lane, our split-level venue with outdoor terrace is something to behold. On the 19th July, The Backroom will be extending its opening hours till 6AM.
A video posted on the club's Facebook stated: " In ten years' time when people ask what you were doing when lockdown was lifted? Tell them you were a part of the first party of the new era". Be a part of the new era by clicking here.
(Credit: @leeds-list)
5. The Pickle Factory, London
The Pickle Factory is an iconic east London club, so it's no surprise they're opening their doors from 00:01am on the 19th July. A club so edgy, they pretty much invented the east London hipster. Once a Pickle Factory in London's cockney heartland, this warehouse then became a medical supplies storage space until it was finally reinvented as a venue sometime in 2013. Now a blank canvas location in the same style as its larger counterpart, The Pickle Factory has been turned into an intimate party space, and they're raring to reopen as soon as possible.
They're ecstatic to announce a six band / two stage night festival at Oval space and Pickle Factory to welcome back live music on the stroke of midnight. You can find out more here.
(Credit: @picklefactory)
Words by Rebecca Clayton